Trade Union and Society Memberships
Alongside being a member of the Labour Party and the Vice Chair (Membership) for Edinburgh Eastern, I'm a member of the following trade unions and societies:
Unite the Union

University and Colleges Union (UCU)

Campaign for Socialism
Campaign and Event Experience
As an experienced Labour activist, I've got the skills to run a successful campaign as your Labour MSP Candidate. Read about some of the campaigns and events I've been involved in across Scotland.
Edinburgh Pride
22 June 2019
This year marked the 50th anniversary of the Stonewall Uprisings that began Pride as we know it. But Pride isn't just a party - with the threat of the growing far-right and the betrayal of the trans community by the SNP, it's important to remember that Pride is a protest for LGBT+ rights.
Campaigning in the Euros
May 2019
I joined Eastern in the campaign leading up to the European Parliamentary Elections, talking to voters out in Portobello, Gilmerton, and Duddingston.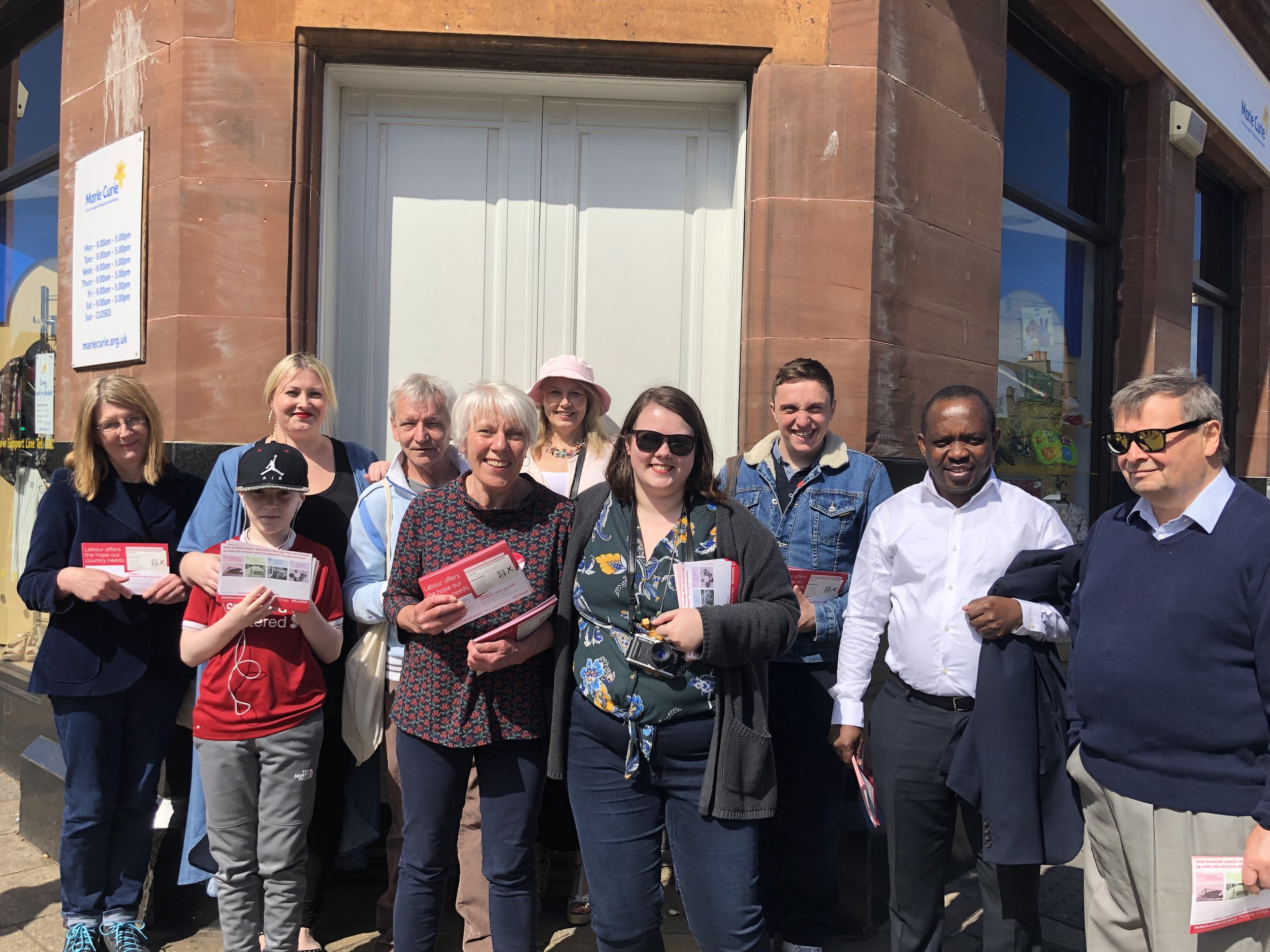 Community Coffee Morning
23 March 2019
Community groups such as CWU, Save Meadowbank, and Health in Mind joined us in Meadowbank Church for a coffee morning out in the community. I designed our flyer and helped staff the Labour stall.
Scottish Labour Conference Dundee 2019
8-10 March 2019
I returned to Scottish Labour Conference as Edinburgh Eastern's Youth Delegate, where I spoke in the debate on Education, arguing against state subsidies for private schools.
Read my blog post about this year's conference.
National Rail Campaign
7 January 2019
Edinburgh Eastern joined the National Rail Campaign by hitting the platform at Brunstane Station.
Jeremy Corbyn's Community Visit
16 December 2018
Jeremy Corbyn, Richard Leonard, and Lesley Laird hosted a Christmas lunch for people who work in or use Edinburgh's food poverty, homelessness and anti-austerity services and community groups on Sunday 16th December. I joined the volunteer contingent from Edinburgh Eastern in setting up, serving the lunch, and tidying away afterwards.
STUC Budget Rally
12 December 2018
We joined the trade unions outside Scottish Parliament to protest the SNP's budget. Scotland needs a budget for real change - a budget that puts an end to local council cuts, and effectively tackles child poverty.
Edinburgh Eastern Labour Party Festive Drinks with Neil Findlay MSP
7 December 2018
Over 70 comrades joined us for festive drinks in Nelson Hall. Chair Paul Nolan gave a short speech, and I introduced our special guest, Neil Findlay MSP. Sheila Gilmore kindly contributed money towards the event, and we raised £138 in the Lucky Dip!
#SaveOurPostOffice with CWU
1 December 2018
We joined the Communication Worker's Union on their national campaign day to #SaveOurPostOffice out on Princes Street, helping them gather signatures for their petition. Strengthening our bonds with the trade unions is essential to the success of the Labour Party.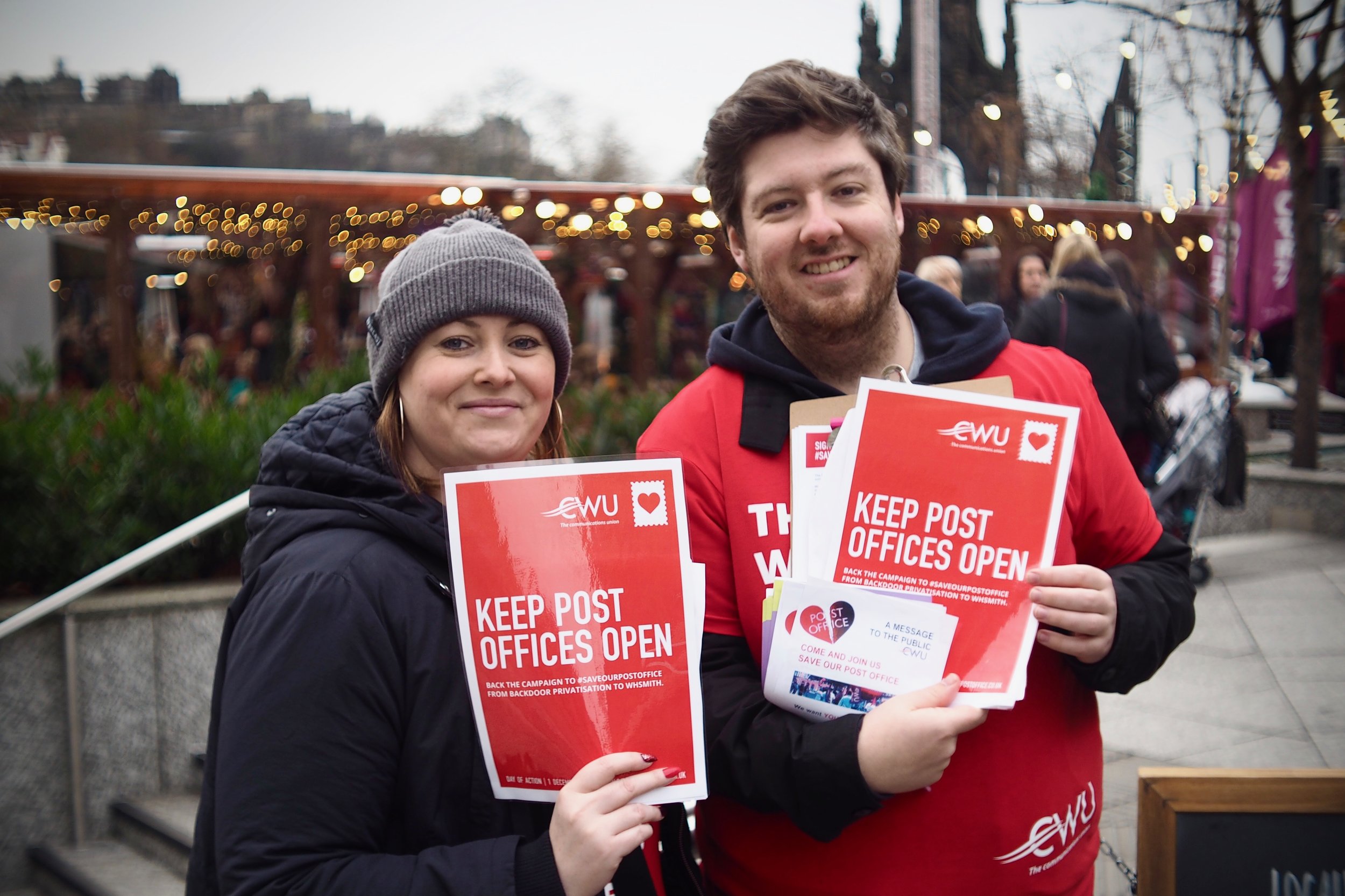 Campaigning with Westminster Candidate Sheila Gilmore
6 October 2018
I joined Sheila Gilmore and the Labour Students on a bright sunny morning over in St Leonard's for door-knocking and leafletting.
Edinburgh Eastern AGM: My Election as Vice Chair (Membership)
Since becoming Vice Chair (Membership), I've worked on the following projects:
An overhaul of the membership email system, including the implementation of a new communication and engagement strategy and template redesign

Conducting an All-Women Shortlist Consultation on behalf of the Labour Party to poll members on their opinion of All-Women Shortlists versus Open Selections

The design of a new 'Campaign Bootcamp' event to prepare members for campaigning in the upcoming elections
Delivering Scottish Labour Voice out in Niddrie
31 July 2018
We joined Sheila Gilmore's team out in Niddrie to deliver the Scottish Labour Voice newspapers.
National Campaign Day in Edinburgh Eastern
12 May 2018
The sun came out for our day of door-knocking in the constituency. We were delighted to be joined by comrades from West Lothian such as Neil Findlay and Rhea Wolfson.
Edinburgh and the Lothians May Day March and Rally
5 May 2018
I joined comrades from the CLP representing the Scottish Labour Party at May Day, including holding our banner high during the May Day March.
Edinburgh Northern and Leith and Edinburgh Eastern Coffee Morning and Spring Sale
24 April 2018
I helped with setup, man the Party stand, and selling raffle tickets to fundraise for the two CLPs.
We were visited by Gavin Strang, the former Labour MP for Edinburgh East.
Campaigning in Midlothian
17 March 2018
I joined our comrades in Midlothian leafletting and door knocking for Vivienne Wallace in the Penicuik council by-elections.
EIS's 10% Campaign
When I was at Scottish Labour Conference 2018 in Dundee, I visited the EIS stall to offer solidarity for their campaign for a 10% pay increase for teachers in Scotland.
Scottish Labour Conference Dundee 2018
9-11 March 2018
I attended my first Labour Conference as Edinburgh Eastern's Youth Delegate.
The keynotes from Richard Leonard, Jeremy Corbyn, and John McDonnell were inspiring: they all endorsed a Labour party which is openly committed to socialist and anti-austerity values, and promoted a vision of a better Britain for all.
UCU All-Scotland Rally #StrikeForUSS
8 March 2018
UCU members from universities across Scotland gathered for the All-Scotland UCU Rally outside Scottish Parliament. The best speech by far was definitely the one given by the new Rector of the University of Edinburgh, Ann Henderson. I spoke to Alex Rowley MSP about the issues facing early career academics and the state of the dispute with UUK.
Picketing with UCU #StrikeForUSS
In February and March 2018, industrial action will took place at over 60 universities across the UK in a bid to protect our pensions. Under UUK's proposals, the average UCU member was set to see their pension fall by £10,000 a year. In addition, this dispute was part of the wider issue of casualisation and the attack on security of employment in higher education. As a UCU member working on a precarious teaching contract at the University of Edinburgh, I joined the picket line for the week of 5-8 March.
To learn more about the strike, visit the UCU Strike for USS website.
Anti-Austerity Rally
14 December 2017
I joined the protest outside Scottish Parliament against the local government austerity cuts in the Scottish budget.
Meeting Jeremy Corbyn at Fire Station Creative in Dunfermline
26 August 2017
General Election
8 June 2017
US #MuslimBan Protest
30 January 2017
In January 2017, shortly after his inauguration, President Trump introduced an executive order banning travel from seven majority-Muslim countries. Protests broke out across the world, including this #MuslimBan Protest in Edinburgh. Read more here.